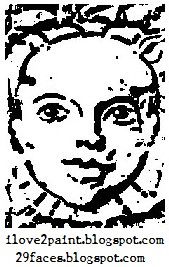 The
lovely Ayala
is once again hosting her face challenge. This time, it's 29 Faces in 28 days. Faces are a weakness of mine, so I'm challenging myself to do this! My friend and amazing artist
Corrinne Gilman
sent me this beautiful hand crafted book, and I've decided to dedicate it to the challenge.
this one useful
for proportions (the instructor also has one for each feature!), and ended up doing this sketch.
I cut out a bunch of faces from magazines, and am committed to drawing/painting/sketching them and sharing them, no matter how horrible! Here's my February 1st face:
And my February 2 face:
Samy, my 11 year old daughter's assessment: They don't look like the pictures but they
do
look like faces. (She's always honest!)
I am open to any criticism, suggestions, tips, and hand holding, about my efforts with faces! HELP!! And please
check out
all of the amazing artists who are participating. I guarantee you'll be inspired!
Thank you for visiting! I read and treasure every comment and will answer any questions as quickly as I can.