There is a beautiful legend of a guru who was much revered and followed. When he was not teaching or meditating, he wrote in his journals. No one was allowed to see them. "You may look at them only after I have left my body," he told his disciples. By the time of his death, he had filled up scores of journals, which his followers finally opened after the guru passed away. Stunned, they saw that all of the journals contained only one word, written over and over and over: Ram, Ram, Ram --- Peace, Peace, Peace.
I had made a mess of an art journal page in which I tried to emboss over a collage made from prints with my
gelli plate
, paint the whole thing with acrylic paint and then rub away the paint from the embossed parts to show the collage below. It just didn't work. But the experiment left me with some wonderful texture and interesting colors and marks.
(Note to self - never give up -- each step leads to something else, and the end result can make you happy even if the steps along the way make you want to throw the whole thing out!)
Squinting at it, I found a face in the lower right, and made the rest into wild hair. Inside that hair, I found a dove.
Obviously, a girl with a dove in her hair must have peace on her mind.
"Mostly, she thought about how to make the world a more peaceful place."
This I Believe:
"There is a criterion by which you can judge whether the thoughts you are thinking and the things you are doing are right. The criterion is: Have they brought you inner peace? If what you do has brought you inner peace, stay with what you believe is right."
Peace Pilgrim
Thank you for visiting! I read and treasure every comment and will answer any questions as quickly as I can.
Linking to 29 Faces,
Create With Joy,
Mandarin Orange Monday
,
Make it on Monday
,
Pin and Tack Spark Your Creativity
(Anything Goes),
Monday Mantras
,
Art Journal Journey
(peace),
Art Journal Every Day
, and
Simon Says Stamp and Show (
stars).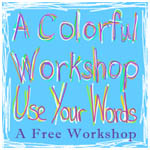 UPDATE:
My friend, Carolyn Dube, is starting a FREE online class called
"Use Your Words."
Check it out!