The lovely
Kristin at Twinkle Twinkle
is hosting the Summer of Color again!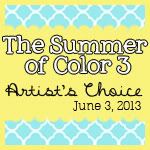 This year, Kristin is putting the weekly colors up to a vote, making it very interactive!
The first week color combo was citron and turquoise:
I couldn't resist trying out my
new HANDS stencil from Stencil Girl
in the background.
This week, the color combo is orange and hot pink!
The words say, "and as she moved through the world, it transformed into a beautiful garden." There seems to be a theme of a girl (is it me?) and she may or may not keep appearing...
If you want to get in on the fun, go to
Twinkle Twinkle
where you can vote on the color combo for week 3 and check out the colorful work of lots of amazing artists!
Linking also to
Mandarin ORANGE Monday,
and
Make it Monday
.
And ... in case you missed it,
here's my guest post
for
One Little Word
!
Thank you for visiting! I hope you will leave me a comment to let me know you were here. I read and treasure every comment and will answer any questions as quickly as I can.