I love mixing styles -- can't you tell? Fairies are on my mind because
Inspiration Avenue
is gearing up for the Fairy's Tea party on September 23. And when the
Diva's challenge
this week was to break free of the traditional string, fairy tangles seemed the thing to do! Then,
A Year in the Life of an Art Journal
challenged us to say something to ourselves of 10 years ago. So I decided to put them all together!
Ten years ago, I was a 44 year old mother of an 11 and 1 year old. Samy, then 1, demanded constant interaction and connection. She was sweet, loving, cheerful, and exhausting. Mariel, then 11, was just starting see me as a separate human being, and of course beginning to notice that I was less than perfect. That summer, she developed Bell's Palsy as a result of lyme disease and her face was partially paralyzed (it has since gone away). Her dad and I were in an extremely acrimonious phase of our often turbulent post divorce life and were only able to communicate through a mediator. Needless to say, life was stressful. Now that Mariel is 21, and Samy is 11, most of my days are calm and joyous. I learned so much about myself and life over the past 10 years. Even though Samy still loves to chat, she can also become immersed in a book. Mariel's dad and I have an uneasy friendship, and of course, Mariel is glorious and all grown up now -- 21 and a senior in college. Ten years ago, I couldn't imagine that I would be in a place where I would spend significant time painting, meditating, practicing yoga, and working in my garden. And although the journey was sometimes difficult and traumatic, the years seem to have flown by. Sometimes you have to look back at your past and smile at how far you've come!
The challenge at
Stampotique
is to use orange, mustard and navy -- not colors I usually use too much. But I love how they all worked together in this piece.
The lady in this art journal page was inspired by this photo on the
Moxie Fab blog
. I'm sorry I didn't photograph the process on this page -- the background went through so many different variations -- and most of the time I hated it so much! But in the end, I rescued it and now I like it -- something I wouldn't have believed I could have said even 2 hours ago!
I got the idea to add the rectangle for journaling from this great video on
Roben-Marie Smith's blog.
If you haven't seen her tutorials, check her out. She's amazing! Also, she is closing out her online art shop and there are a lot of great deals to be had!
I watched another great tutorial on layering stencils on
Ronda Palazzari's blog
. She has created albums to store all her stencils, and shows how she decorated the album covers. This tutorial is applicable to all sorts of projects, and I highly recommend it!
Speaking of Ronda, she will be our first guest artist on "Fall Fearless and Fly," the challenge
Carolyn Dube
and I are co-hosting at
Artists in Blogland.
Every other week, there will be artistic prompts designed to get you thinking about setting intentions and shedding emotional baggage to step into 2013 as your bravest, most fearless self. Have you ever done a juice cleanse? Think of this as an art cleanse! Any medium goes, and Aritsts In Blogland has great prizes and giveaways. Each week, there will be an amazing guest artist participating! Carolyn and I will be kicking off the art on October 1st. Here is the line up of our guest artists:
Rhonda Palazzari
,
Jane Davies
,
Maria McGuire
,
Marcia Beckett
,
Dina Wakley
, and
Joanne Sharpe
!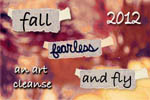 While you are waiting for October 1st to roll around, check out the websites of these amazing artists & grab the blog button to help spread the word about all the fun we're going to have!
Happy
Paint Party Frida
y and
Show and Tell Saturday
and
Creative Every Day
!
Thank you for visiting! If you are so moved, please leave a comment. Hearing from you means the world to me.